ORIGINAL ART SALE GOING ON NOW. GET IT BEFORE WE BRING IT TO COMIC-CON INTERNATIONAL
ONLINE STORE HERE

CLICK
HERE
FOR INFO ON HOW TO PRE-ORDER YOUR
COMIC-CON INTERNATIONAL EXCLUSIVE SKETCH COVER BOOKS
,

SO YOU CAN HAVE THEM SKETCHED ON AND WAITING FOR YOU!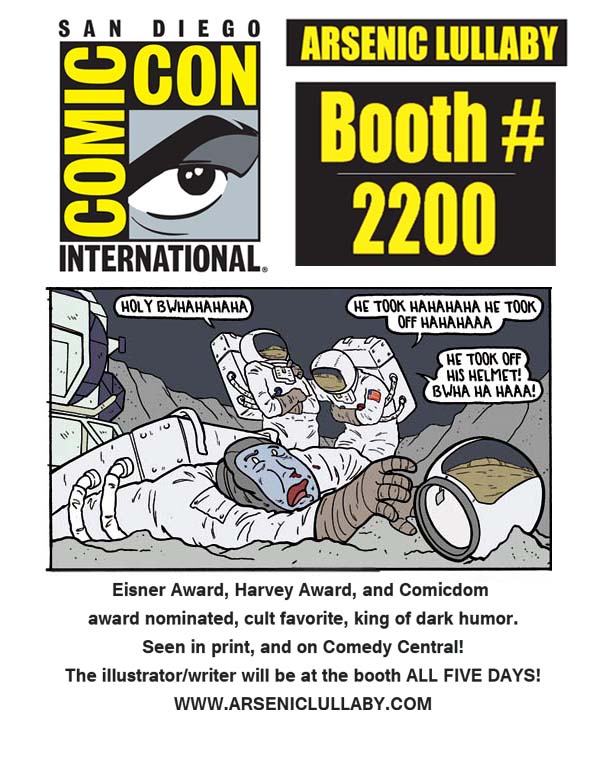 If you are the type who likes to see how we do the voodoo that we do, follow us on
INSTAGRAM
A great way to see things come together and even try to deduce which random sketching and scribbling will be the next great idea.

HOW TO FIND US




COMIC-CON FLOOR PLAN

We have simplified the floor plan for you, to make finding our booth eaiser

BLOG HERE
EXCLUSIVES!




2016 Comic-Con International Exclusives

What kinds stuff will we have at this years CCI? Find out this week..
BLOG HERE
YOUTUBE CHANNEL




TIPS ON INKING WITH A BRUSH


Arsenic Lullaby Douglas Paszkiewicz uses a brush exclusively when inking, in this video he gives you some no-nonsense, practical tips and techniques to help you get the hang of inking with a brush.,

VIDEO HERE
YOUTUBE CHANNEL



The Thousand Deaths of Baron Von Donut Cartoon!

Arsenic Lullaby favorite Baron Von Donut in an animated ...adventure in which he runs across some Chinese drug dealers.

VIDEO HERE
NEW COMIC




THE NEW COLLECTION IS ALMOST HERE


PAGE AFTER PAGE OF NEW ARSENIC LULLABY HORRIBLE GOODNESS


more info and samples

HERE
DIRECT TO YOUR INBOX


NEWSLETTER

THIS WEEK SUBSCRIBERS TO THE NEWSLETTER GET A FREE PDF OF A BACK ISSUE!
OUR NEXT CONVENTION


Comic-con International

BOOTH 2200!

UPDATES COMING SOON!

For now, all you have to know is that we will be there, and have exclusive stuff. and as usual our illustrator will be there ALL FIVE DAYS.