The new issue of Arsenic Lullaby is launching NOW on kickstarter. Take a look at the last issue and get in on the new one. There are exclusive covers, t-shirts, and bonus merch is being added...go here for details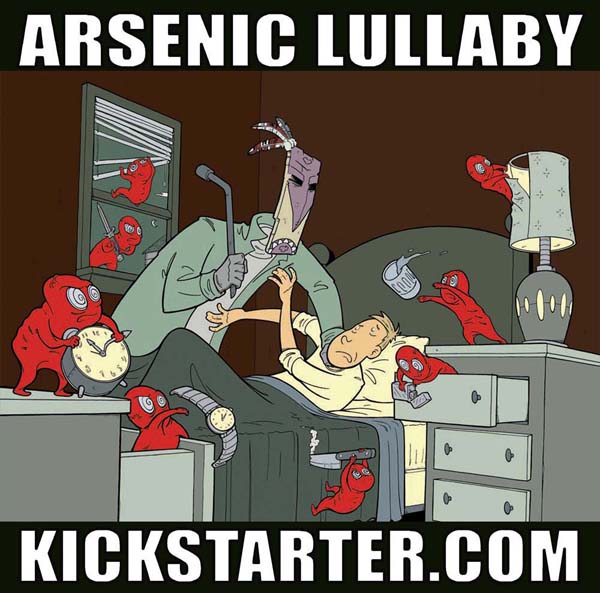 for questions on just what the hell Kickstarter is anyway, go here
| this is the most recent issue and the first in full color...as the new issue on kickstarter will be! | | These are earlier stories featuring VooDoo Joe and his zombie fetus army. |
| --- | --- | --- |
In the NEW issue, VooDoo Joe gets an apprentice, a college professor with a doctorite in occult
studies. Can Joe transform a limp-wristed academic into a tire iron-wielding force of evil?
Also in this issue, demigod Cthulhu returns to destroy humanity, only to find out he's too
late and they have destroyed themselves. There is only one survivor and he is under
the protection of Satan himself, who doesn't want the guy to die and go to hell because,
simply put...he's really annoying.
Corporate mascot, Baron Von Donut, returns as well, to watch his boss push the margins of
legitimate promotions. A laundry detergent commercial with a replica of the Shroud of
Turin, and blaming the death of a four year old on the competition's donuts, are just
a few of his schemes.
the pdfs are free while out kickstarter campaign is going on...
want to see the next issue? money talks, go here and make it happen
(click on thumbnails for samples)