Arsenic Lullaby Animated Pilot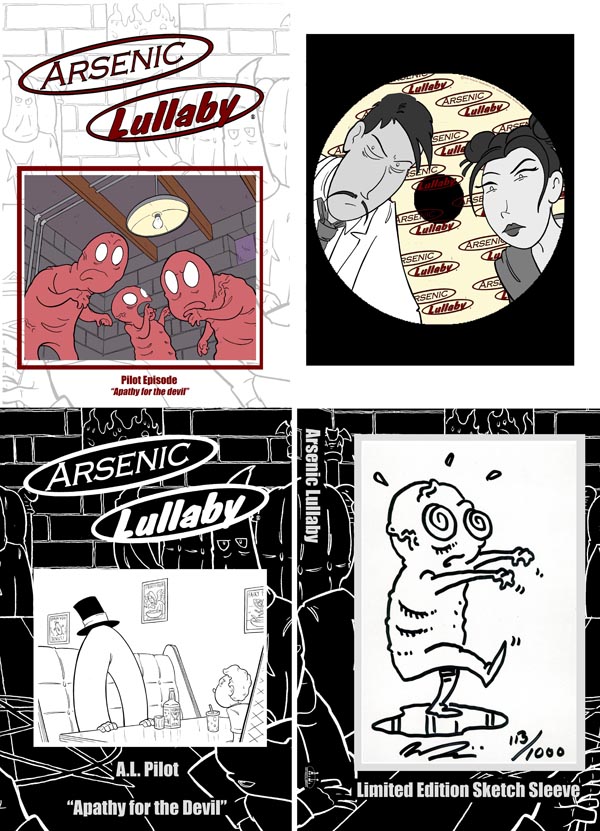 An Animated pilot episode of your favorite dark humor comic...this includes Baron Von Donut, Voodoo Joe and MORE! painstakingly drawn, written and directed by the man himself Douglas Paszkiewicz...so don't worry about it getting the usual hollywood watering down...it's every bit as despicable as the comics. With voice acting by Douglas, comedian Josh Goguen, Lead singer of Lockjaw Medavon, lead singer of the Crybabies George Castro, Christopher Herndon of Living with Zombies, and a host of other nefarious jerks.
This animated pilot comes with a handsome cardboard sketch sleeve. sketch sleeves are limited and will run out. each sketch sleeve...obviosly...come's with a sketch.
***those of you who got DVDs from us directly and didn't get a sleeve..that's because it took us three months to track down someone who could make them for us...but send us an e-mail and we will gladly send you a sketch sleeve...no reason for you to miss out because you got on board early right?