COMIC-CON INTERNATIONAL EXCLUSIVES
(and other related info )
p>Share
Comic-Con International 2011 is almost here, and this year we have exciting news! We will have TWO Exclusive items for this show. When we say "exclusive" we mean it! That means, complete with the "Comic-Con International" logo and ONLY available during the show. Comic-Con International was kind enough to include our book and DVD in their "Exclusive" category so don't expect us to break any of their rules regarding how "Exclusives" are distributed.
This show has been a major factor in Arsenic Lullaby gaining fans, notice, and credibility over the years and as a thanks you to attendees we will have (in limited quantities)TWO Exclusive items!
Ten Year Omnibus Variant Cover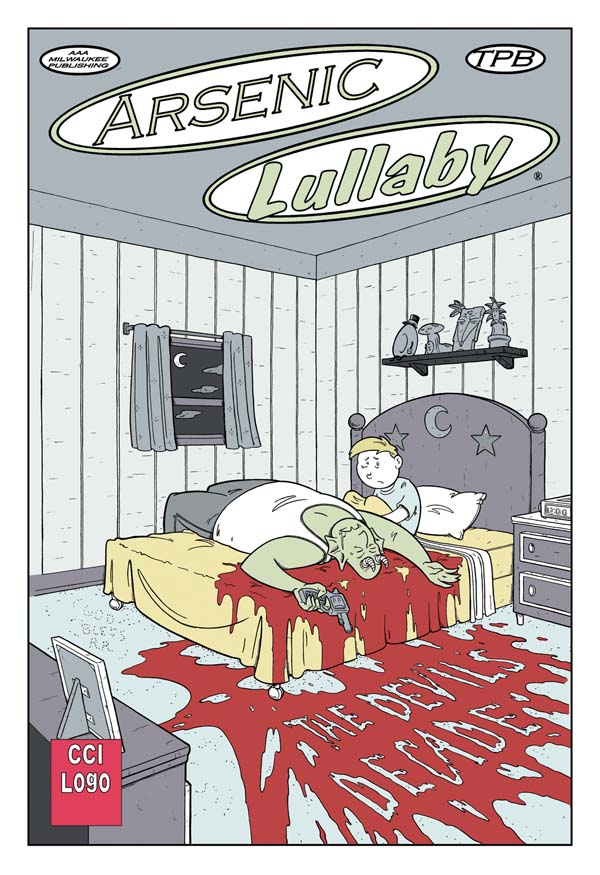 Since it is a comic book show we thought we would stray from conventional wisdom and offer an exclusive that is actually a COMIC BOOK. A Comic-Con only variant graces this Hardcover version of the ten year collection of Arsenic Lullaby. This series has become the elder statesman of independently published comic books, having not only earned an ever growing cult following, but nominations for the Eisner Award, the Harvey Award, and the Comic-don Award in Europe. Attendees who have seen, read, and enjoyed this series during it's over a decade of exhibiting at Comic-Con can now own this 464 page collection with a masterfully illustrated cover by the series originator and Mad magazine contributor Douglas Paszkiewicz. That's 464 pages of the best, strangest, funniest, and skin crawlingest stories ever to grace the pages of a comic book...you're welcome.
Arsenic Lullaby Pilot Episode w/ Silk Screened Slipcase and additional footage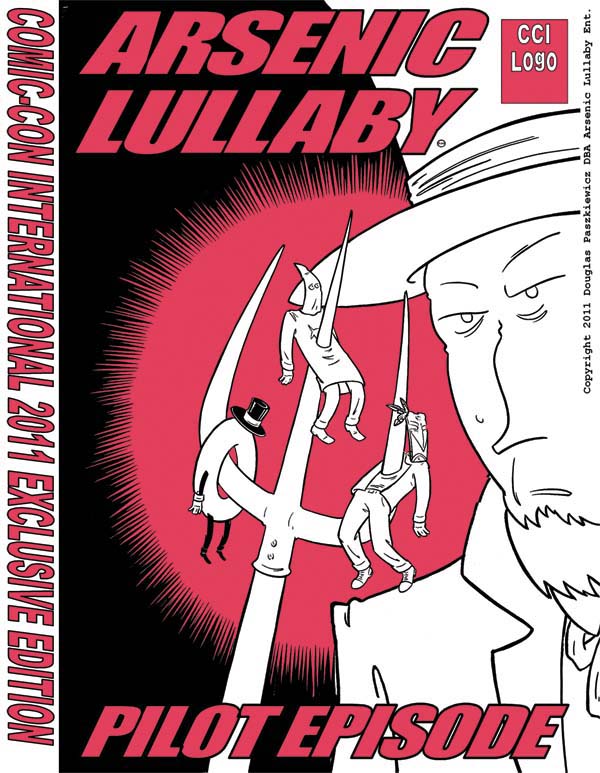 In case reading isn't your bag, a handsome silkscreened Comic-Con only slipcase protects an animated pilot episode of Arsenic Lullaby. That's right, no longer content with panels and word balloons, Arsenic Lullaby is moving into actual animated episodes! This pitch pilot is the same version being scrutinized by cable networks...Lord help us all. This DVD contains the pitch pilot, additional footage, and directors commentary by the series founder Douglas Paszkiewicz. Written and illustrated by Douglas, and voiced by his friends from the stand up comedy and musical industries this pilot, well unpolished in comparison to pixar, is unflinching and uncompromising. Stories straight from the series containing Voodoo Joe and Baron Von Donut are sure to please fans and attendees looking for something off the beaten path.
Along with these fine collectable's will be the usual comics, Shirts and other entertaining and macabre items from the king of dark humor- Arsenic Lullaby! Come by and see us in the independent press pavilion (red carpeted area) Booth no. 2200!
comments? concerns?
myspace.com/douglasarseniclullaby
www.arseniclullabies.com